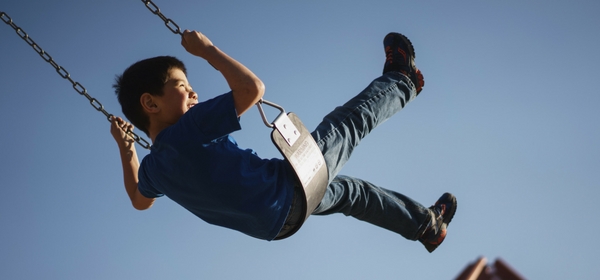 *Cue foreboding music and melodramatic voiceover.* "What would happen to your loved ones if you were unable to look after them?" Though the ads are often overly dramatic, life insurance can play an important role for some families.
You can't help but tune out whenever a life insurance ad starts playing these days.
The music, the voice actor, the dark storm clouds brewing above a playground while the kids play on a swing.
It seems like the same old ad agency has been producing them since the 1980s.
Unnecessary dramatics aside, they may have a point. What would happen?
Here's what's worth considering
Insurers generally offer four main types of insurance under the umbrella of 'life insurance'. The level and range of cover will vary according to your personal circumstances and preferences.
Life cover (aka Life Insurance):
Pays a lump sum benefit or income stream to your family when you pass away. It can help your family continue to live in your home, allow your kids to receive a good education, and pay outstanding debts.
It's worth noting that if you're an employee you may already have life cover through your super fund. If so, double check the cover is appropriate.
Total and permanent disability cover (TPD):
Pays you a benefit if you become seriously disabled and unlikely to work again.
TPD covers the costs of rehabilitation, the future cost of living, and is often purchased with life cover. Be sure to read the product Disclosure Statements as each insurer covers different areas.
Income protection cover (IP):
Pays you an income stream for a specified period if you can't work due to temporary disability or illness.
It's generally taken out by self-employed people. It also usually offers cover for up to 75% of gross wages for a period of up to two years, or until you reach age 60.
Trauma cover (aka recovery insurance):
Covers you if you're diagnosed with a specified illness or injury, such as cancer or a stroke.
Trauma cover can be used as an income stream to pay for private medical costs, therapy costs, debt repayments and necessary lifestyle changes.
How to get Personal Insurance
We work closely with a Financial Planner, and will happily set up a meeting for you to talk with him.
He works with your best interest and will go over everything with you.
Get in contact with us to set up a meeting and have peace of mind should anything happen.
Disclaimer: The content of this article is general in nature and is presented for informative purposes. It is not intended to constitute financial advice, whether general or personal nor is it intended to imply any recommendation or opinion about a financial product. It does not take into consideration your personal situation and may not be relevant to circumstances. Before taking any action, consider your own particular circumstances and seek professional advice. This content is protected by copyright laws and various other intellectual property laws. It is not to be modified, reproduced or republished without prior written consent.
https://www.optimisedaccounting.com.au/wp-content/uploads/2018/10/Squarish-940x788-life-insurance.jpg
788
940
admin
https://www.optimisedaccounting.com.au/wp-content/uploads/2017/08/OA-website-logo.png
admin
2018-10-08 11:00:37
2020-07-17 11:32:23
Life Insurance explained, minus the sombre tones