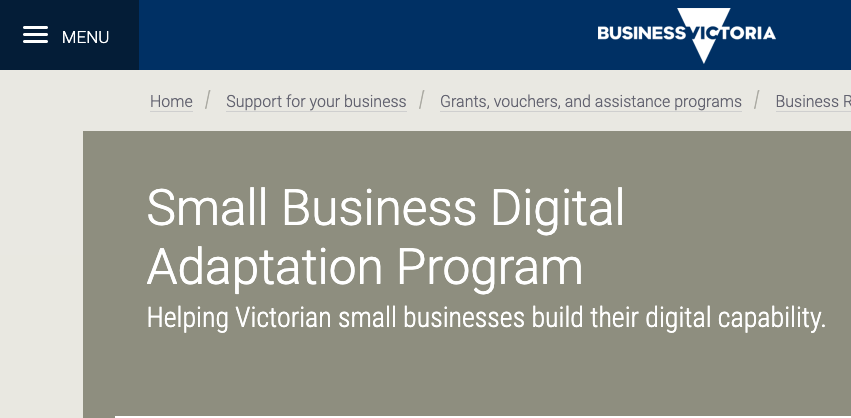 The newest Victorian rebate is to help small businesses get online, sell online, or do more online.
This includes things like getting a website, and also signing up to Xero which is great.
Xero have explained how to go about doing this on their blog, and we have included part of this here.
To read the full article on Xero, please click here.
What do I need to do?
Register for the Small Business Digital Adaptation Program on the program website here.
Once registered click on the Xero logo, which will take you to Xero's dedicated Small Business Digital Adaptation Program landing page.
Click the 'Sign up' button and fill out your business' details to start a free 30 day trial.
When you're ready or your trial expires, select the Xero plan that best meets your needs and enter your payment details.
You will be contacted one month after signing up through the program to ensure that your business has begun using the software.
Once you've confirmed continued use, you will receive a purchase rebate of $1,200 to cover 12 months access to your chosen product (The Victorian Government will pay within ten working days of receiving confirmation).
Who is eligible?
In order to sign up for the program, you must:
Have held a valid ABN since 13 September 2019
Be a sole trader, micro business or small business
Operate your business in Victoria
Be registered with the responsible Federal or State regulator
Be a new customer to the product
Pay for the subscription yourself
Ready to get your business on Xero?
We love Xero and all our clients are using it (as are we!).
Businesses of course can use Xero on their own without the partnership of an Accountant like us, however if you would like to work with us to take care of your business and all the compliance that comes with it, please read how we could help you here, and get in touch.
We'd love to hear from you.
Get more updates like this in your inbox
Sign up to our monthly newsletter to receive due dates, news, tax tips and other important things that we think are useful and interesting throughout the year.

https://www.optimisedaccounting.com.au/wp-content/uploads/2020/12/Artboard-1.png
486
535
admin
https://www.optimisedaccounting.com.au/wp-content/uploads/2017/08/OA-website-logo.png
admin
2020-12-11 12:27:11
2021-12-22 11:29:36
How to sign up to Xero and get the Vic digital rebate